MYSTERY!
A scream. A gunshot. A young woman's body on the landing. The murderer must be among us. Interrogate suspects, examine clues, and match wits in solving the crime. Professional actors lead you through a labyrinth of MYSTERY! You are not just watching--you are creating.
The primary suspect could be you in this engaging game of intrigue. NEW WORLD Theater's MYSTERY! is laced with music, dancing, sing-a-longs, and lots of fun, weaving a web of illusion and deception.
MYSTERY! is a fun-filled interactive adventure. The level of involvement is geared toward the audience, from a one hour version to a full evening of entertainment. Besides being responsible for some of the best parties clients have ever hosted, MYSTERY! has also been used as a fundraiser and at special gatherings to inspire creativity. Comments from tickled participants include, "The most fun I've ever had!" and "Will you be back next year?"
"...thank you for the wonderful performance you gave to our residents on Halloween. I can't begin to tell you how much they enjoyed the murder mystery that was written especially for our group.....thanks again for the fun-filled evening!"
Read the rest of the letter here!

Molly Carioti
Director, Resident Service
Knollwood, An Army Retirement Residence
Washington DC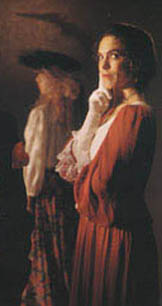 "Jill put on such a fabulous, professional and intelligent program!! Upon completion, the residents were almost giddy with excitement and the community was ALIVE!!"
Read the rest of the letter here!

Beth Darrell, Activities Director
Brightwood Retirement Community
"The mystery show performance you brought to Carroll Vista was beyond expectations. The theatrical professionalism you exhibited was only enhanced by the audience participation. ....This was without a doubt, one of the best audience participation functions to be enacted at Carroll Vista. ...We look forward to having you back soon."
Read the rest of the letter here!

Mary Margaret Payne
Lifestyle Director
Carroll Vista by Del Webb
Taneytown, MD 21787
January 26 & Nov. 8 and already scheduled the next one!

"When my residents talk about any event for more than a few days, I
count it as a very large success. The mystery dinner was the buzz of
the Quincy campus for months..."
Read the rest of the letter here!

Janice Lynn Mertz, MT-BC
Village Activities Coordinator
Quincy, PA


"The stories ingeniously weave history and rumors into entertainment and intrigue"
-- Washington Entertainment Magazine
NEW WORLD has played their Victorian and present day intrigues with groups ranging from twelve to two hundred. Their unique participatory drama suites almost any setting and has been a smashing success in hotel suites, country inns, bed & breakfasts, on trains and cruise ships. With NEW WORLD's improvisational style. MYSTERY! can be customized to fit your theme, local, or event.
"The New World [Theater] Company allowed for as much or as little creativity and participation as people wanted, creating a comfort level that helped many people break out and jump into character with gusto. Feedback from participants included words like engaging, hilarious, exciting and wonderful. ... We look forward to having them repeat not only this program, but others in their repertoire."
Read the rest of the letter here!

Moira Schuhart
Director of Activities for the Woodlands
Fairfax, VA

| | |
| --- | --- |
| | |
| The good sister ... | The evil sister ... |